Reviews
Feature Articles
Enid Blyton's Magic Faraway Tree
Harcourt Children's Books - Special Supplement
Elizabeth Chayne's Reading Room
Stories and Serials
Phyllis Owen: A Soft White Cloud Chapter Three
Paul Norman: Heraklion ~ Outcast
Dark Tower Comics Covers Gallery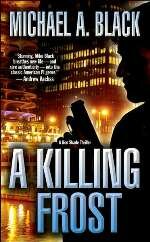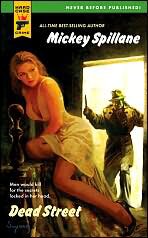 Mike Hammer
From Wikipedia, the free encyclopedia
Mike Hammer is a fictional American detective created by the American author Mickey Spillane in the 1947 book I, the Jury (made into a movie in 1953 and 1982). Several movies and radio and television series have been based on the books about Mike Hammer. The actor most closely identified with the character in recent years has been Stacy Keach, who portrayed Hammer in a CBS television series, Mickey Spillane's Mike Hammer, which ran from 1984–1987 and had a syndicated revival in 1997–1998. (An earlier syndicated version, originally aired in 1957–1958, starred Darren McGavin as Hammer.) Spillane himself played Hammer in a 1963 motion picture adaptation of The Girl Hunters.
While pulp detectives such as Sam Spade and Philip Marlowe are hard-boiled and cynical, Hammer is in many ways the archetypal "hard man:" he is brutally violent, misogynistic, and fueled by a genuine rage that never afflicts Raymond Chandler's or Dashiell Hammett's heroes. While other hardboiled heroes bend and manipulate the law, Hammer holds it in total contempt, seeing it as nothing more than an impediment to justice, the one virtue he holds in absolute esteem.
Hammer is also patriotic and anti-communist. The novels are peppered with remarks by Hammer supporting American troops in Korea, and in Survival...Zero Vietnam. In One Lonely Night, where Hammer attends a communist meeting in a park, Hammer's reaction to the speaker's propaganda is a paragraph with only one word in it: "Yeah."
So far as violence is concerned, the Hammer novels leave little to the imagination. Written in the first person, Hammer describes his violent encounters with relish. In all but a few novels, after a beating by Hammer, his victims are often left vomiting after a blow to the stomach or groin, the vomiting being a kind of Spillane signature.
The
Washington Times obituary of Spillane said of Hammer, "In a manner similar to Clint Eastwood's Dirty Harry
, Hammer was a cynical loner contemptuous of the "tedious process" of trials, choosing instead to enforce the law on his own terms
Mike Hammer Television Series
There have been four serialized television shows based on the exploits of Mike Hammer.
Mickey Spillane's Mike Hammer

(1958 - 1960 ; starring Darren McGavin

)

Mickey Spillane's Mike Hammer

(Jan. 1984 - Jan. 1985 ; starring Stacy Keach

)

The New Mike Hammer

(Sept. 1986 - May 1987 ; starring Stacy Keach

)

Mike Hammer, Private Eye

(Sept. 1997 - June 1998 ; starring Stacy Keach

)
Mike Hammer Films
I, the Jury

(

United Artists, 1953

)
Filmed in 3-D starring Biff Elliot as Mike Hammer.
Kiss Me Deadly

(United Artists, 1955)
Robert Aldrich was the director, Ralph Meeker was cast as Hammer, Maxine Cooper portrayed Hammer's sexy secretary/companion Velda.
My Gun Is Quick

(United Artists, 1957)
Robert Bray was cast as Hammer, with more of the violence originated from the villain rather than the detective.
The film grossed $308,000 with a total of $602 overseas.
Mickey Spillane was given the rare opportunity to portray his own creation in this film. This is one of the few occasions in film history in which the creator of a literary character was later hired to portray that character in a film.
I, the Jury

(20th Century Fox, 1982)
Armand Assante plays Hammer in this version.
Come Die With Me

(Fox, 1994)
Rob Estes plays Hammer in this TV movie. Pamela Anderson plays his secretary Velda.
Mike Hammer Comic Strip
A short-lived comic strip starring Mike Hammer was distributed by Phoenix Features Syndicate from 1953 to 1954. It was entitled "From the Files of... Mike Hammer" and written by Spillane, Ed Robbins and Joe Gill, with art by Ed Robbins. Collections of the strip were published in the 1980s.
Mickey Spillane
From Wikipedia, the free encyclopedia
Frank Morrison Spillane (March 9, 1918 – July 17, 2006), better known as Mickey Spillane, was an American author of crime novels. He was known for the series of novels featuring his signature detective character, Mike Hammer, among other works. More than 225 million copies of his books have sold around the globe. By 1980, Spillane was responsible for seven of the top 15 all-time bestselling fiction titles in America.
Born in
Brooklyn, New York and raised in Elizabeth, New Jersey
, Spillane was the only child of his Irish-American bartender father, John Joseph Spillane, and his Scottish mother, Catherine Anne. He started writing while in high school and briefly went to Fort Hays State College in Kansas. He worked a variety of jobs, including summers as a lifeguard and a period as a trampoline artist for the Barnum and Bailey circus.
Comic books
Like another famed writer of crime fiction, Patricia Highsmith, Spillane started as a writer for comic books, While working as a salesman in Gimbel's basement in 1940, he met tie salesman Joe Gill, who later found a lifetime career in scripting for Charlton Comics. Gill told Spillane to meet his brother, Ray Gill, who wrote for Funnies, Inc., an outfit that packaged comic books for different publishers. Spillane soon began writing an eight-page story every day and concocted adventures for major 1940s comic book characters, including Captain Marvel, Superman, Batman and Captain America.
Mike Hammer
After the Pearl Harbor attack, Spillane joined the United States Army Air Corps the next day, December 8, 1941. In the mid-1940s he was stationed as a flight instructor in Greenwood, Mississippi, where he met and married Mary Ann Pearce in 1945. The couple wanted to buy a house in the country, so Spillane decided to boost his bank account by writing a novel. In 19 days he wrote I, the Jury. At the suggestion of Ray Gill, he sent it to E.P. Dutton. Published in 1947, with a Signet paperback in December 1948, I, the Jury sold six and a half million copies in the United States alone. I, the Jury introduced Spillane's tough detective Mike Hammer. Although tame by current standards, his novels featured more sex than competing titles, and the violence was more overt than the usual detective story. An early version of Spillane's Mike Hammer character, called Mike Danger, was submitted in a script for a detective-themed comic book.
Marriages
Mickey and Mary Ann Spillane had four children (Caroline, Kathy, Michael, Ward), but their marriage ended in 1962. In November 1965, he married his second wife, nightclub singer Sherri Malinou, who posed nude for the cover of The Erection Set (1972), a novel dedicated to her. After that marriage ended in divorce (and a lawsuit over money) in 1983, Spillane shared his waterfront house in Murrells Inlet, South Carolina with his third wife, Jane Rodgers Johnson, whom he married in October 1983. Meanwhile, first wife Mary Ann and their four children lived only a short distance away. In 1989, Hurricane Hugo ravaged his Murrells Inlet house to such a degree it had to be almost entirely reconstructed. A TV interview showed Spillane standing in the ruins of his house.
Films
Spillane portrayed himself as a detective in Ring of Fear (1954), directed by screenwriter James Edward Grant. Several of the Mike Hammer novels were made into movies, including the classic film noir, Kiss Me Deadly (1955). In The Girl Hunters (1963) Spillane appeared as Mike Hammer, one of the few occasions in film history in which an author of a popular literary hero has portrayed his own character. In the TV series Columbo Spillane played a writer who is murdered. During the 1980s, he appeared in Miller Lite beer commercials.
Spillane became a Jehovah's Witness in 1951 (NPR Interview). He died July 17, 2006 at his home in Murrells Inlet from pancreatic cancer. Spillane's novels went out of print, but in 2001, the New American Library began reissuing them. He received an Edgar Allan Poe Grand Master Award in 1995.
Critical reactions
Literary critics had a negative reaction to Spillane's writing, citing the high content of sex and violence. Spillane answered his critics with a few terse comments: "Those big-shot writers could never dig the fact that there are more salted peanuts consumed than caviar... If the public likes you, you're good."
However, Russian-American author Ayn Rand publicly praised Spillane's work at a time when critics were almost uniformly hostile. She considered him an underrated if uneven stylist and found congenial the black-and-white morality of the Hammer stories. She later publicly repudiated what she regarded as the amorality of Spillane's Tiger Mann stories.
German painter Markus Lüpertz claimed that Spillane's writing influenced his own work. He certainly loves to shock his critics by saying that Spillane ranks as one of the major poets of the 20th Century.
Popular culture references
The late writer

Charles Bukowski

was said to have been inspired to write his 1994 novel Pulp as a parody of Spillane's style of detective novels.

Avant-garde composer

John Zorn's 25-minute piece based on motifs found in Spillane's work was released as an LP, Spillane

(1987).

The 1986-88 sitcom

Sledge Hammer

was a parody of Mike Hammer.

In episode 9.10, Operation Friendship, of the television series M*A*S*H, Corporal Klinger saves Major Winchester's life and, in the process, breaks his nose. At Klinger's request, Winchester reads Spillane's I, the Jury

to him, as a way to help repay his debt to Klinger.

In the

Star Trek: Deep Space Nine episode, "Profit and Loss", Quark interrupts Odo in the security office and is surprised to find him reading I, the Jury.

In the movie

Full Metal Jacket

, the drill instructor responds to the protagonist's choice to become a Marine Combat Correspondant by saying "You think you're Mickey Spillane? You think you're some kind of fucking writer?"

The song "

The Friends of Mr. Cairo", by Jon & Vangelis

, on the album of the same name, includes the line in the lyrics "She came, as in the book, Mickey Spillane".

In the "Lost"

Stella short entitled "Bar", while drinking in a bar, Michael Ian Black makes a toast to David Wain and Michael Showalter makes a toast to Black. Each of these is in the style of a limerick

and each ends with the line, "He'd have to be Mickey Spillane".

A child is shown reading a Spillane book in an April 2007 IKEA Canada [ad.]

Ikea AD

In a

Mad satire of specialized book clubs

, one fictitious club listed is "The Spicy Abridged Book Club" which offers books with "only them [sic] 'choicest parts'" i.e., the parts of racy novels that lust-minded readers look for. "The Spicy Abridged Mickey Spillane" is described as containing, "A selection of the meatiest parts of his books, meaning every word he ever wrote!".
Spillane quotes
"I'm actually a softie. Tough guys get killed too early... I've got a full head of hair and don't wear eyeglasses."

"I'm the most translated writer in the world, behind Lenin, Tolstoy, Gorki and Jules Verne. And they're all dead..."

"I have no fans. You know what I got? Customers. And customers are your friends."

"My work may be garbage but it's good garbage."
"Now what happened with Ernest Hemingway was that he wrote this nasty piece about me... So I was on a show in Chicago, a live TV show. It was a big theatre and there was a stage audience, and the guy who was interviewing me said, "Did you read that piece that Hemingway wrote about you?" And I said, "Hemingway who?" It brought the house down, but he hated my guts after that."