Editorial
Reviews

Crime

Fantasy & SF

Popular

History

Non-fiction

Children's

Comics
Feature Articles

New ALLISON & BUSBY titles

Scene of the Crime

Yen Press Manga

What makes a classic book?

Judging a book by its cover

Introducing the Original Dangerous Books for Boys

Interview: James Delingpole

Nostalgia: Things are what they used to be!

Nostalgia Central: Carlton Books

Elizabeth Chayne's Reading Room

Personalised Noddy Books from Harper Collins
Stories and Serials

Phyllis Owen: A Soft White Cloud Chapter Four

Gareth Owen: Poem

Paul Norman: Daylights

Paul Norman: Heraklion ~ Outcast

Star Wars: Dark Emperor

Owen Owen's Gallery

Marvel comics

Top Cow comics

Image Comics

DC Comics

Dark Horse Comics

Devil's Due Comics
For further information on the Carlton titles mentioned in the article opposite, go to this page, where you'll find details of all the nostalgia titles Carlton/Prion currently publish.
Things are what they used to be!
By Paul Norman
TURN THE CLOCK BACK WITH CARLTON
We all know someone older who makes claims about their generation and the decade they were brought up in; "we used to leave the front door open...", "you could go to the seaside for a few pounds..."; such phrases are commonplace, and they're used by people reminiscing about the times they knew to be better than the times in which we live. It's called nostalgia, and it's boomtime for nostalgia in the publishing world. One company, Carlton Books, specialises in it:
Carlton's range of Nostalgia titles is second to none

This month you will be able to purchase, once again, the Civil Defence Manual of Basic Training, and Air Raid Precautions. No, we're not at war – though the war on terror, (or tourism, as George Dubya would have us believe) might tell you otherwise. There are still people around who lived through the last great war, of course, and many more who form the generation known as the "baby boomers", born just after the war and brought up in the 1940s/1950s. Those people will inevitably talk about how good things were in "those days", just as today's 40-year-olds will hearken back to the 1960s/1970s, and 30-somethings will tell you there was never a decade quite like the 1980s. The number of people who would prefer we still lived in the 1920s/1930s is dwindling rapidly, but everyone who's not a teenager or in their twenties will think back fondly to their childhood days and the fact thatthings were better then. I'm no exception. But why? What am I trying to do by collecting 1950s/1960s books? I don't collect any other kinds of memorabilia, such as Dinky Toys, Meccano, or the kind of stuff you find in those wonderful museum shops, with bars of soap and packets of sweets on display. I had Dinky toys, and I had Meccano, but although I remember many happy hours with them, it's the reading I remember most.

Am I trying to recapture something from my distant past? I don't think so. We still listen to songs from those decades, particularly on Radio 2's Terry Wogan and Johnny Walker shows. They're proud to play Buddy Holly, Elvis, the Beatles and so on. It's purely a question of what you enjoy - I enjoy reading the books I used to read all those years ago. It's as simple as that. Something about Schoolfriend comic touched a nerve and imprinted itself on my memory as something I really, really enjoyed reading, hence my interest in school stories. It's as simple as that, and people have come to realise that modern publishing can bring some of those things out of the archives and back into people's lives.
I'm in my sixties, still married to the only girl I ever dated, father of three, and gloriously happy as I approach my retirement (or not, if my pension doesn't cover the mortgage!). But I can't resist books and comics from the 1950s. Of course, comics today aren't a patch on the comics we read as children in the 1950s. What am I talking about? There aren't any comics worth talking about today, are there? Well, yes there are. A couple of months ago I featured Titan's newest title, the Transformers comic, which is terrific, equally as good as the first Transformers comic my youngest son used to get every week. There are other good comics around, but they are all American, I fear. Superman, Batman, Supergirl, Teen Titans, JSA etc., are all still available – new artists, new storytellers, new styles, but they're great comics.
However, as anyone who was brought up with comics will tell you, they're not a patch on, nor ever were a patch on the great British comics of the 1950s and 1960s. You can still buy them, of course. Ebay is a great source of classic comics. So are car boot sales. Only yesterday I picked up a pile of twenty of the original Look and Learns from the early 1960s. Not really comics, but representative of the 1960s without a shadow of a doubt. Mind you, I put them back down quite quickly when I found out the state they were in. Not worth the 50p each the vendor was asking. That's not to say I haven't bought great comics at car boot sales – I have, but they're generally dog-eared or filthy dirty.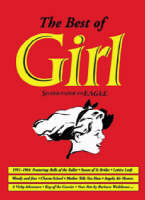 Now, though, you can have the best of both worlds. You can have comics from the 1950s/1960s reprinted using the very best printing methods from the 21st century. Because it's what people want. I have loads of books about the 1950s/1960s, and about nostalgia in general – what's happening now is slightly different, because the publishers are reprinting the actual comics and books from those bygone eras. It's one thing to read about Girl and Eagle, quite another to have in your hands a replica Girl or Eagle annual. What it does is to confirm, in no uncertain terms, that what we read then was far superior to what is available now for children – in itself not difficult, as there are no comics for teenagers other than the ones I mention above. Not just comics, of course. I didn't have the Civil Defence Manual of Basic Training or Air Raid Precautions, though my parents would have had it, and I only recently found one of my mother's ration books from the 1950s. She might also have had a copy of Spuds, Spam and Eating for Victory, reprinted this month, along with the Home Guard Manual, by Tempus.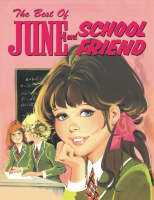 If she was still alive, bless her, she would almost certainly have wanted a copy of the 1903 THE GIRLS' EMPIRE, reprinted this month by Short Books. My sister would want THE BEST OF JUNE AND SCHOOLFRIEND, although I would have quickly pinched it to read for myself! THE BEST OF JUNE AND SCHOOLFRIEND (which predates Eagle's sister paper, GIRL, by almost a year) is published by Carlton Books, who specialise in nostalgia titles. Loads of publishers have latched onto the success of THE DANGEROUS BOOK FOR BOYS which made publishing history last year and is set to repeat this success with THE DANGEROUS BOOK FOR BOYS YEARBOOK, out now and a guaranteed winner for Christmas; but Carlton have a whole raft of publications which help people remember their favourite decades; titles like THE OUTDOOR BOOK FOR ADVENTUROUS CHAPS, EVERY BOYS' BOOK OF KNOWLEDGE, and a number of thrilling picture library titles such as AARRGGHH! IT'S WAR, COMMANDO: ANZACS AT WAR, BATTLE PICTURE LIBRARY: DEATH OR GLORY, and WAR PICTURE LIBRARY: UNLEASH HELL. Superbly printed, these titles evoke past eras in a way that will leave you wondering if today's mad and dangerous world is really that much better.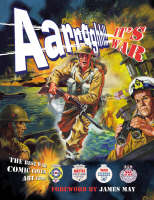 Even English Heritage are getting in on the act, with CHARLES BUCHAN'S MANCHESTER UNITED (and ARSENAL) GIFT BOOK. The difference between DANGEROUS BOOK FOR BOYS and the titles from Carlton is that DANGEROUS is original, and attempts to recapture the flavour of boys' books from the 1940s/1950s, while Carlton's books are reprints of actual stories and strips from comics and annuals that were around at the time. That simply serves to emphasise our need for nostalgia, of course, in whatever form is available. DAN DARE continues to star in the beautiful Titan Books reprints, now at volume eight and with a ninth to come soon; alongside that there's CHARLEY'S WAR, now running to three volumes and reprinted from the 1970s/1980s strip (a fourth volume comes out at the end of this month. I suspect it is the men and women who lived through those eras that buy these books for themselves, rather than for their children or grandchildren, but once you've persuaded a child to read, these are invaluable lessons in folklore and social history that cannot be gleaned from curriculum textbooks.
What I personally would really like to see now is a reprint of the COMMANDER and CORONET books from 1957-1960. But it doesn't stop there –let's have reprints of a TIGER and a LION annual. 2007 looks like being the best nostalgia year in terms of publishing for some time - let's hope the vogue continues unchecked. The more of these priceless volumes we can get reprinted the better. With Print-on-Demand just around the corner, I can see a time coming when we can order a copy of any book published in any decade and have it printed and bound while we do our shopping. That may be a few years away, though, and in the meantime let's just be thankful that there are publishers like Carlton and Titan who have the vision and the dedication to trawl the archives of the golden years and give us back our lost youth. Now what I'd like for Christmas is the 1957 Tiger Annual - not much to ask in these heady days of printing technique expansion. Not much at all...

But of course it's not only those fabulous fifties and sixties annuals that are being reprinted; novels from the earlier decades of the twentieth century are also being published by specialist small presses such as FIDRA BOOKS, BETTANY PRESS and GIRLS GONE BY PUBLISHERS. The latter two publishing houses tend to keep things close to their collective chests, and are almost reclusive. But FIDRA are a different kettle of fish. They shout about what they're up to, they have an impressive website, and their books are in great demand. Their back catalogue boasts an impressive line-up of authors who, in their day, were tremendously popular, rivals to the great Enid Blyton, people like Elinor Lyon, M Pardoe, Victoria Walker, Olivia Fitzroy, J Pullein Thompson and, from more recent years, the wonderful Anne Digby. And, as I've already reported, HEADLINE REVIEW last month launched their splendid reprints of three true stories from World War Two, ODETTE, BOLDNESS BE MY FRIEND and THE HONOUR AND THE SHAME, with the promise of more titles early next year. Right now the nostalgia publishing industry would seem to be in safe hands!
Gateway prides itself on publishing a large number of articles on nostalgia, see the nostalgia section in the archive. With the current vogue for nostalgia publishing in full swing, I've decided to keep tabs on it on a regular basis, whether it's the second LIFE ON MARS book, which will be featured and reviewed next month, or the ongoing popularity of nostalgic TV programmes like FOYLE'S WAR (Carlton publish a beautiful book about that, too!). If you're interested in the past, you'll find plenty to interest you in Gateway - that's why it's called Gateway, of course.